Smart4Two Information
8/2/2015
Smart4Two Information:
A. ClubSmartCar - Web Site which includes multiple Smart4Two forums.
B. evilution.co.uk - Smart car technical site - Good resource site for Smart4Two owners.
C. FQ101.co.uk - Taking Modification to the Next Level!
The New 2008 Gen II Smart4Two:
Pertinent information about the soon to be released 2008 Gen II U.S. version SF2 which will be approximately 8" longer than the Gen I Smart4Two's.
A. Smart USA - The official Smart USA web site.
Over 6,800 members are actively blogging, posting photos and videos, and participating daily in exciting discussions about their smart experiences, personalization, product questions and more.  If you have not yet visited smart USA Insider, we encourage you to meet and interact with the thousands of smart owners, reservation holders and enthusiasts like you that gather there daily to discuss all things smart.
Gen II Smart4Two - Model 52 kW Specifications:
Dimensions and Weights:
Wheelbase= (mm) 1,867 (73.50 in) compared with the Gen I @ (1,812 mm) (71.34 in)
Track width front = (mm) 1,283 (50.51 in) compared with the Gen I @ (1,275 mm) (50.20 in)
Track width rear = ( mm) 1,385 (54.53 in)
Length = (mm) 2,695 (106.10 in) compared with the Gen 1 which is (98.5 in)
Width = (mm) 1,559 (61.38 in) compared with the Gen 1 which is (59.5 in)
Height = (mm) 1,542 (60.71 in) compared with the Gen 1 which is (60.0 in)
Turning circle = (m) 8.75 (28.71 ft.)
Weight without driver = (kg) 750 (1,653.47 lbs.) (cabrio: 790) (1,741.65 lbs.)
Payload = (kg) 270 (595.25 lbs.) (cabrio: 230) (507.06 lbs.)
Permissible total weight = (kg) 1,020 (2,248.72 lbs.)
Fuel tank capacity/reserve = (l) 33/5 (8.72 gal - US/1.32 gal - US)
 
Performance:
Maximum speed = (km/h) 145 (90.10 mph)
 
Note:
The remainder of the Gen 2 specs can be by seen by clicking on smart technical specifications.
Changing Smart4Two headlight bulbs:
From Darryl&Rita (Darryl):
Just finished changing a couple dead bulbs in the smart.  2006 Canadian model, with the diesel engine.  The method is found here.  If you have any kind of meat on your fore-arms, good luck.  The low beams(outside) on this model are the worst.  You can't see, have to go by feel.  The outside bulbs are H7 halogens, while the high beams are H1 halogen.  In Canada, we are required to run DRL, which use a #74 bulb, placed just above and inside the high beam bulb.  Hope this helps.
Optimizing the Ride Quality on a Gen II Smart4Two:
If you're looking to improve the ride quality of your Gen II Smart4Two you might want read this tip:
 
From Russ Barnes:
I've had my '08 smart for about 18 months and while I am saving it for fulltiming I do have about 7,000 miles on it.  One (of many) changes I made early in its life was to get rid of those skinny front wheels and tires.  I bought two new rear rims, sold the like new rear tires, kept one front tire/wheel for a spare and sold the other.  Then I put four equal sized Michelin 185/60-15 tires on.  The ride difference is like a spring seat vs. an air ride seat, after all the air volume in a tire is another spring medium.  I think I was one of the first one or two to do this on SCOA, but since them at least hundreds of others have followed this lead.  There was data that said that for the "Elk" test for Norway that Mercedes Benz while developing their "A" series flipped the car.  So their solution was skinny fronts so the car wouldn't turn as quick.  They applied the same logic to the smart, but from all research never retested with this car, plus since them put the computer braking on so if going into a turn fast it does brake selective wheels.  I have twice felt the brakes automatically apply, once on gravel and once while I was reliving my race car days on a tight 90 degree turn, but for "normal" driving this is a huge improvement.

Just a suggestion, Russ
Smart4Two Loading threads:
Why Load & Unload Your Smart4Two from the Drivers Side?:
From all indications thus far everyone that has posted photo's of their Smart4Two loading's and unloading's has chosen to do so from the drivers side of their HDT.
Here is the Why load/unload a smart car from the drivers side?, Everybody seems to do it that way. tell me why? discussion the reason's why everyone that we know of thus far has chosen to load and unload from the drivers side when they carry their Smart4Two's width wise on their conversions.
Smart4Two Folding Loading Ramp Information: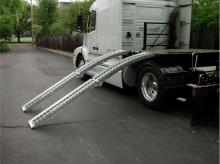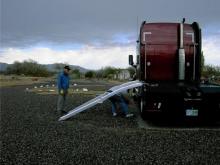 The heavy duty 10' arched aluminum folding ramps that Dennis M and Dick and Diana (two of the original Smart car toters) are using to load their Smart4Two's take care of clearance issues during the transition from the ramps to the trucks deck.
The ramps were purchased several years ago @ DiscountRamps.com however they are now listed as a discontinued product.
The Big Boys Ramp Details:
Model Number= MF-12014-2 = (The Big Boys) = Two 120" arched folding ramps
Unfolded Length = 10' (120 in)
Folded Length = 61 in
Folded Thickness = 10 1/2 in
Width = 14 in each
Weight = 40 lbs. each
Weight Capacity = 3,000 lbs. total / 1,500 lbs. each
 
Note:
Two newly designed replacement models for the original Big Boys ramp design are now available @ DiscountRamps.com
 
The Big Boy II Ramp Details:
Model Number = MF2-12038 (The Big Boy II) = Two 120" arched folding ramps
Unfolded Length = 10' (120 in)
Folded Length = 60.5 in
Folded Thickness = 7 1/2 in
Width = 19 in each -or- 38" when combined
Weight = 43 lbs. each x two - 96 lbs. total
Weight Capacity = 2,500 lbs. total / 1,250 lbs. each
Price = $449.99 + $75.00 S&H
- OR -
Model Number = MF2-14438 (The Big Boy II) = Two 144" arched folding ramps (See Below)
Unfolded Length = 12' (144 in)
Folded Length = 72 in
Folded Thickness = 7 1/2 in
Width = 19 in each -or- 38" when combined
Weight = 54 lbs. each x two = 108 lbs. total
Weight Capacity = 2,000 lbs. total / 1,000 lbs. each
Price = $569.99 + $100.00 S&H
While both model #'s are listed as arched ramps these are actually Flat Ramps with a " 12 degree angle -or- offset " at the hinge that give the same functionality as an actual arched ramp.
 
Note:
Billr (Bill) chose to go with The Big Boy II model #MF2-14438 ramps with a 2000 lb. combined weight rating for his Smart4Two loading project as Discount Ramps felt the MF2-14438's were of adequate strength to handle the weight of his Canadian Smart4Two.
If you would like to use The Big Boy II 12' ramps but are concerned about their 2000 lb. weight rating the addition of a modified heavy duty cog style jack stand placed under either hinge should rectify any concerns about overloading the 12' ramps.
 
Note:
From N20N1 (Ed):
This is the e-mail with reply that I sent to Discount ramps about using the MF2-14438 (1000# rating for each) ramps for loading my smart car. As you can see they recommended against using these particular ramps as they felt that one ramp would be overloaded and linked to a set (MD-14438-1500) that is rated for 1500# each.
 

"Hello,

Not a good idea as the ramps are rated for evenly balanced axle weights which no vehicle has so if you are at or approaching the 2,000 lb. max it is likely that you will be exceeding the weight capacity of the ramps.

We're all about being safe and by asking I guess you are also.

At the 12' length the MD-14438-1500 would be your best bet. Hd-Motorcycle Ramps  It will allow you to put things in the smart car and still be able to load without worry.

Thank you and if you have any questions, please let me know.

Andy
DiscountRamps.com
760 S. Indiana Avenue
West Bend, WI 53095"
Smart4Two Extendable Custom Made Loading Ramp Information:
The beauty of these ramps is that they are only 5' 6" long when collapsed and extend to approximately 10' 6" long which would make storing them within a lockable bed compartment practical rather than having ramps that must be carried underneath the car or in a large dedicated storage compartment as most Smart4Two owners are doing.
Smart4Two Modular Drop Deck Loading Ramp Information:
MakinSmoke (Virgil) is using the 15' 9" modular four ramp system listed below from DiscountRamps.com to load his Smart4Two.
These are true car loading ramps that are completely flat "no hinges" that utilize a separate adjustable aluminum center support stand that interlocks the upper and lower sections together.
 
Modular Ramp Details:
Model Number = 04-18-189-01-01-M = Four 94.5" straight ramps w/adjustable ramp support
Length = 4 ramps @ 94.5" each
Width = 18" each
Thickness = 2.25" each
Weight - Ramps = 50 lbs. each pair x 2 = 100 lbs. total
Weight - Ramp Support = 52 lbs. x 1
Weight Capacity - Ramps = 8,000 lbs. total / 4,000 lbs. per axle
Weight Capacity - Ramp Support = 8,000 lbs. total / 3,000 lbs. per axle
Price = $1,399.99 + Freight Charge
Smart4Two Winch Information:
Dennis M (Dennis) and Dick & Diana (Dick) use or originally used Mile Marker PE2500 winches with a line rating of 2,500 pounds to hoist their Smart4Two's up their loading ramps.
Dennis has since reported that his Mile Marker PE2500 lasted for a couple years before petering out and has since upgraded to a Smittybilt XRC-8 winch with a line rating of 8,000 pounds that he purchased online from Winch Depot.
 
Smart4Two Tie Down Information:
Dennis M (Dennis) uses custom made wheel bonnets designed for his specific tie sizes that were purchased online at Susquehanna Motorsports as tie downs for his Smart4Two.
Smart4Two Insurance Information:
From Dennis M (Dennis):
Our smart car insurance is through Farmers.  My agent said "If you can license it we can insure it"  I have 500/500/100 with a $500 deductible. Cost is $367.70 for six months comparable to my BMW my "now sold" Dodge Ram.  I do get some discount since they carry all of my insurance on the cars, Bud, the trailer, and the house.  I also have it classified for pleasure use, less than 5,000 miles per year.  Interestingly the paper work has the correct serial number but calls the model "220 C/230 C".
From Dick & Diana (Dick):
Our insurance is through Hartford, and for 1 year with multiple car discount including 1 other car) is $530.00 per year.  Geico quoted about $1000.00, which is Ridiculous in comparison.
Gen I Smart4Two's Loaded on Toter Photos:
Since many of us have aspirations about purchasing a Smart4Two to haul on our conversions I thought I'd include a few links to pictures of members Gen I Smart4Two's loaded on their HDT's and a video of Red Dog's being loaded on his deck.
 
Gen II Smart4Two Loaded on a Slant Details & Pics:
Here are few Pics of member Robb (Robb)'s Gen II Smart4Two loaded cross wise on an incline due to its length (reportedly 105 3/4" long) on his VNL610 which enables the Smart to be within the 102" width guidelines when loaded which is mandated by federal highway regulations.  Any vehicle that measures more than 102" wide requires an over width permit therefore this is the only legal way to transport a Gen II Smart4Two width wise on a Toter bed.
Bed, Ramp & Tie Down Details:
Robb states that his bed is 8' wide, that the ramp is 30" high which is required to meet the 102" federal highway width requirement and that he uses 9' detachable ramps to load his Smart.  The ramps are loaded securely under the car for transport with chains and locks to keep them from walking away.
He utilizes straps and large eyes on the fixed ramp under the rear wheels to strap the car down which binds it down as it pulls up on the rear tires. For additional safety he also has a chain that runs through both sides of the Smarts frame then through an eye on the back of the ramp box where he has a chain binder with lock.