Posting Photos to the Forum
8/2/2013
Prepping the Photo
The first rule is to have your photos in a size that is reasonable for the Forum.  That means 800x600 pixels or smaller.  Your probably have a photo tool on your PC like Microsoft Live Gallery or Picasa, a free download from Google.  The scope of this article will not cover resizing the photo.
If you are using a URL link to a photo from a website (Google +, Picasa, Live Gallery SkyDrive, Photobucket, etc.), you will seldom have any control on the size of the photo that will be linked. You should look and see if there is any option to limiting the size.
 
Adding the Photo by Attachment
The easiest way to post a photo in the Escapees Forum is to include the photo as an attachment.  As an attachment, you do not have to post the photo up on a website and as an attachment, the photo will appear as a thumbnail in the port.  I.e. there will be a small photo in the post that will expand when clicked on.  This makes the forum thread easier to read.
Note - on replying to a post.  If the post has a photo in it, it is poor protocol to just hit the Quote button.  Just copy the text you are replying to and paste it within the Quote box.  Or if you use the Quote button, delete the photo in the Replay.  It isn't needed and makes the thread extra long and harder to read.
The Editor for the Start New Topic will be in the Full Editor mode.
For a Reply, click on the More Reply Options button by the Post button to get the Full Editor Mode.
click on photo to expand
Once you are in the Full Editor, click on Browse to find the photo you prepped for upload.  Then click on Attach This File.
click on photo to expand
After Attaching the photo/s you want, then add text to the Post.
 
Adding the Photo by URL link
In either the Reply Editor or the Full Editor, click on the Image Icon.
click on photo to expand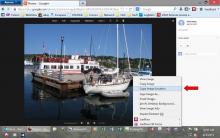 Go to the photo you want to crate a link to and right click on the photo.  This photo shows Google+.  Most photo web site either allow a right click or have a button to create a share link.
click on photo to expand
Select the option offered to get the URL for the photo.  look for public links, if offered.  No use posting a photo that others cannot view.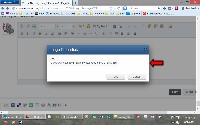 Back at the Escapees Forum Editor, click on the Image Icon, place the cursor in the URL Link box, and paste the URL Link into the box either by right-clinking and choosing Paste or the keyboard shortcut <Ctrl> V.
After inserting the image/s you want, then add text to the Post.