RV Solar Systems, Etc.
8/1/2015
RV Solar Systems, Auxiliary Battery Banks, Wiring Diagram for Adding an Inverter/Inverter Charger to Your HDT's Starter Battery Bank: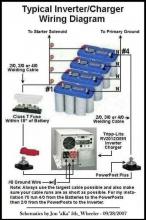 = Utilizing an HDT's 12 Volt starter batteries wired in parallel.
Jack Mayer (Jack) also has an in depth page on his Web Site outlining his electrical system in his 610 outlining some helpful tips and information.
Jack has some good information on his Web Site about installing a solar system in your Toter or 5th-Wheel and Mark Bruss just added a page on his Web Site about his recent solar system install on his Travel Supreme.
It is also suggested you check out Jack's Resource Listings Page on his Web Site that has quite a few links to various vendors and technical information.
 
Properly Installing a 12 Volt High Amp Power Run:

This photo shows several acceptable methods of running a high amp 12 Volt power source into your Volvo's electrical compartment.
Note:
If you own a KW and want to run a high Amp, medium Amp or low Amp 12 Volt auxiliary circuits to your electrical compartment read Battery power connection to see what our resident KW expert Scrapmaker has to say about the subject.