Backup Camera Systems
8/1/2015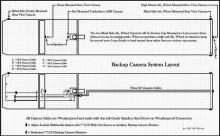 Everything You Need To Know About Rear View Cameras
Jack Mayer has a good write-up as does Mark Bruss about their backup camera systems.
 
Note:
If money isn't a consideration in your choice of backup camera systems take a look at the AgCam camera system that OLDphoneman (Dave) purchased for his 610 or the Voyager camera system that 'Nuf Truck (Cal) purchased for his 630. These are both high end backup camera systems but be prepared to shell out some $$$$ if you purchase either of these systems.
 
From 5th_Wheeler (Jon):
Note, If your in the market for a good backup camera system at a reasonable price I recommend looking at the backup camera systems that eBay Selleleviathan_holdings sells.

In addition to my drom cabinet camera, hitch viewing camera, rear of 5th-Wheel mounted camera and interior flush mounted camera that will allow me to view the work station area in the cab I also decided to purchase a couple of his side mounting cameras that's mounted in a stylish paintable enclosure for the passenger side blind spot on my truck.